gweike cloud Laser Cutter & Engraver with Rotary CO2 (50W) Pro II
€2.700,00 EUR
Regular price
€3.200,00
Free Shipping for US/EU/UK/CA/AU
Product Parameters
Payments:
1. Built-in Water Chiller, ≤70dB
2. Air Exhaust Fan, ≤70dB
3. Built-in Air Compressor, ≤70dB
4. 5MP Camera, Preview Design and Visually Position.
5. Honeycomb Panel, 20.08" (510mm)*11.8" (300mm)
6. Material Package:Basswood*5, Acrylic*5, Cardboard*5
7. Gweike Cloud Web Software with Free Online Design Library and Control Motherboard Upgrade
Gweike Cloud Web APP(provided)
Free Online Design library (only for web app)
If you don't have professional drawing design experience or you don't have time to design drawings, Gweikecloud provides massive materials for free download or you can purchase online
Learn more
Control Mother Board Upgrade
The machine control mother board can be upgraded, constantly upgraded with new features for free.
Auto-alarm
When there are problems during machine operation, the cloud control software will show a prompt.
What Are Included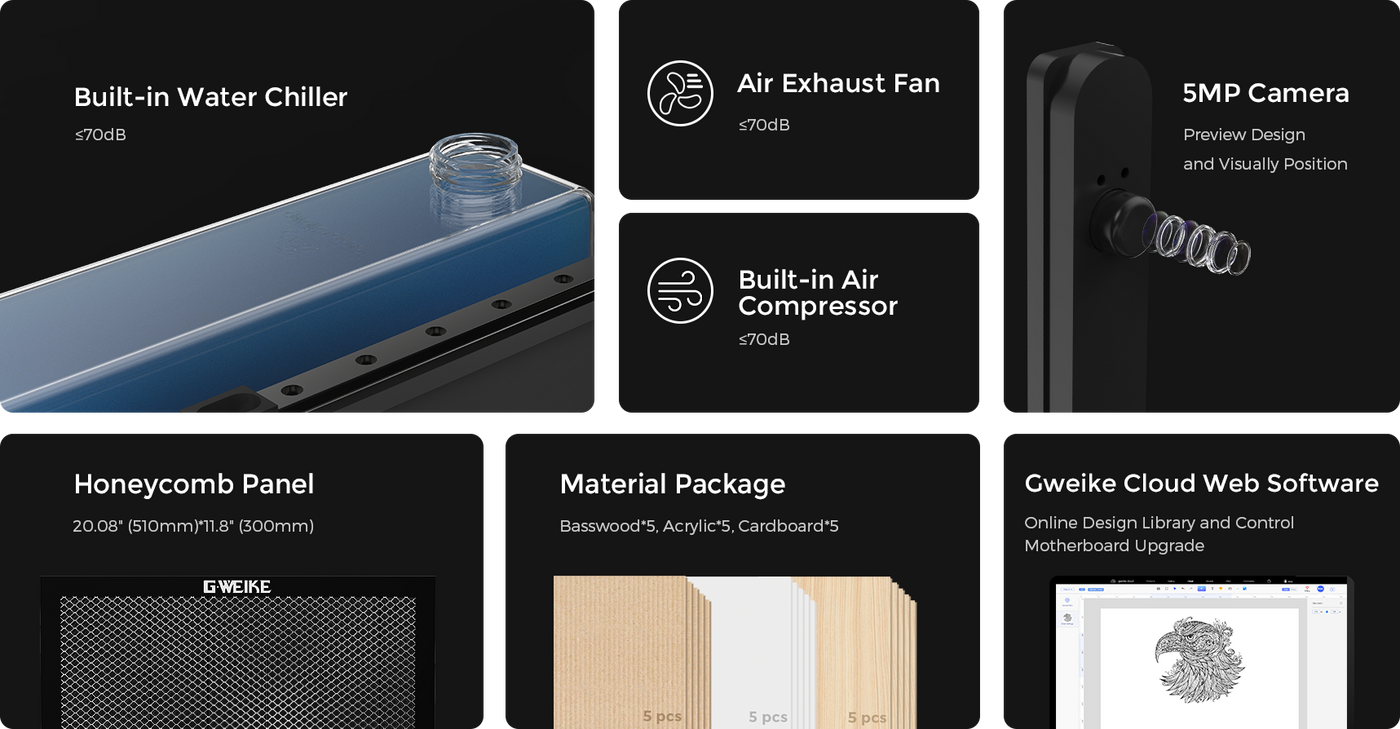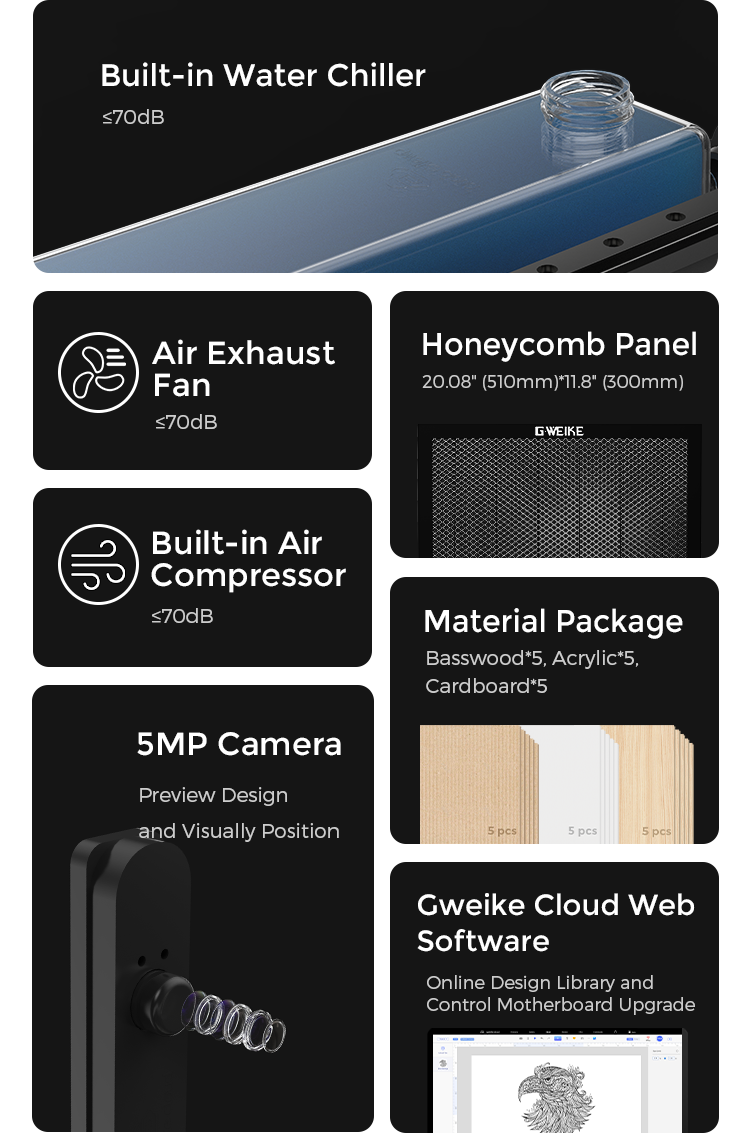 gweike cloud Pro Work With Hundreds of Materials
With gweike cloud Pro laser machines, you can laser-cut, engrave or mark many materials, including: plastics, wood, rubber, leather, metals, textiles and many others
Glass
Coating Metal
Plywood
Food
Rubber
Acrylic
Paper
Leather
Rock
Smoke Air Filter
Environmental protection without pollution.Three-stage filtration.The first is bag filtration of large particles.The second is HEPA filtration of particles larger than 0.03um.The third is activated carbon adsorbs of smoke and dust odour.
Powerful Controller
Support gweike cloud online, Gweikecloud offline and lightburn three controllers.Support WIFI-network cable and USB three connection methods.
The Quieter the Better
During normal printing, gweike cloud has an average noise level of about 70 dB(A). Equipped with a much quieter fan the speed can be adjusted automatically according to the real-time temperature, realizing a noise level decrease of about 16 dB(A)[3], so that you can truly focus on your making.
Specs Summary
Tech Specs
gweike cloud VS glowforge
Material  Cuts Engraves
Delivery Time
Laser System
Laser Power 50W
Laser Type CO₂ Glass Laser Tube
Lifespan 10000h
Safety Guard Class I (FDA Certified)
---
Work Area
Work Table Area 20.08" (510mm)*11.8" (300mm)
Max. Workpiece Height(without honeycomb tray) 2''(51mm)
Work Table Surface Black (Special surface finishing technique helps reduce burn marks or discoloration)
---
Materials Processing
Max. Cutting Depth 0.59''(15mm) Basswood
Max. Carving Speed 600mm/s
Carving Precision 0.001" (0.025mm)
Noise Rating ≤70dB
---
Rotary Device
Rotary Engraving diameter 10mm-180mm (with risers)
Rotary Engraving Length ≤245mm
---
AI Camera Information
Focus Mode AI Visual AF/Material Recognition AF/Material Set-up AF
Camera High-resolution Ultra-wide Camera
Number of Pixels (Effective) 5MP
Visible Area 19.29'' x 11.42''
Positioning AI Visual Positioning Error range ≤ 2mm
---
Software Requirements
Operating Systems Windows/macOS
Control Software Gweikecloud Web Based,Gweikecloud Offline, Lightburn
Connection / Transmission Wi-Fi, USB, Ethernet
Supported File Type SVG, DXF, JPG, JPEG, PNG, BMP, TIF, CR2, etc.
Design Software AutoCAD, Solidworks, Inkscape, CorelDRAW, PowerPoint, Illustrator, Photoshop, Google AutoDraw, etc.
---
Environmental Requirement
Power AC 110-220V±10%,50-60Hz
Work Consumption (without fan) 550W
Nonoperating Temperature 0~45°C
Relative Humidity 5~90°C
Operating Ambient Temperature 0~35°C
---
Weight & Dimensions
Processing Area 20.08" (510mm)*11.8" (300mm)
Machine Dimensions 38.2"*22.2"*9.2" (970mm*565mm*234.5mm)
Weight 45.6kg
---
Supported Accessories
Cameras: 5 MP ultra-wide-angle camera wide angle & macro √
Full autofocus √
Water Chiller √
Dual high-efficiency internal LED strips √
---
| | | |
| --- | --- | --- |
| | gweike cloud Pro | Glowforge |
| Engraving Speed | 600mm/s | 200mm/s(Pro) |
| Working Area | 510mm*300mm | 495mm x 279mm |
| Rotary Support | Yes | No |
| Software | Lightburn, Offline software, gweike cloud Web base | Glowforge Web base |
| Laser Power | 50W | 40W(Basic/Plus), 45W (Pro) |
| USB Port Support | Yes | No |
| Inline Duct fan | Yes | No |
| After-sale Support | 7*24 online service | Appointment only, by email |
| Delivery | 7-14 days, oversea warehouse | 2 weeks, longer delivery time(Basic) |
| Warranty Time | 12 month | 12 months,  6 months(Basic) |
| Price | $3,199  | $6,995(Pro) |
| Material | Cut  Thickness | Engrave |
| --- | --- | --- |
| Basswood | 15mm | √ |
| MDF | 6mm | √ |
| Acrylic | 8mm | √ |
| Paper | 20mm | √ |
| Leather | 10mm | √ |
| Delrin | 8mm | √ |
| Plastic | 8mm | √ |
| Melamine | 6mm | √ |
| Mylar | 5mm | √ |
| Rubber | 6mm | √ |
| Pressboard | 20mm | √ |
| Fabric | 17mm | √ |
| Cloth | 17mm | √ |
| Cork | 13mm | √ |
| Matte Board | 10mm | √ |
| Fiberglass | 10mm | √ |
| Glass | × | √ |
| Coated Metals | × | √ |
| Ceramic | × | √ |
| Marble | × | √ |
| Mother of Pearl | × | √ |
| Painted Metals | × | √ |
| Tile | × | √ |
| Corian | × | √ |
| Anodized Aluminum | × | √ |
Package
size
114*73*36cm 72*35*32cm
weight
58kg    17kg
Delivery address
Shipping from
Logistics Providers
Freight ($)
Estimated Delivery Time (day)
United States
United States

DHL/

FedEX/UPS
Free
7~15
United States * Hawaii/Alaska/Guam/Puerto Rico
China

DHL/

FedEX/UPS
$200
30~45
Canada
Canada

DHL/

FedEX/UPS
Free
7~15
Austria, Belgium, Bulgaria, Croatia, Denmark, Estonia, Finland, France, Germany, Greece, Hungary, Ireland, Italy, Latvia, Lithuania, Luxembourg, Netherlands, Poland, Portugal, Romania, Slovakia, Slovenia, Spain and Sweden.
German

DHL/

FedEX/UPS
Free
7~15
U.K
U.K

DHL/

FedEX/UPS
Free
7~15
Other countries
China
By air or sea
confirm with us
15-60
Great little Laser after initial problems
The Gweike cloud pro is very well built, sturdy and well thought out. I use it solely with LightBurn and now Ive set up a materials library for different thickness material the focus works well. The initial problem I had was the laser would not fire, after comms with tech support (very good and very knowledgeable) we discovered it was the microswitch on the draw. Tech support explained step by step how to fit a jumper on the control board so I could disable the switch. The laser has worked perfectly ever since (no need for microswitch should be removed). Im totally happy with laser and would not hesitate to reccommend A+++
I loved my machine
I am happy with my machine, it does a great job, customer service is excellent, Christina is very kind and attentive, she is attentive to following up with the customer, in summary I am happy with my purchase. Much to learn and take advantage of it. Don't hesitate to buy it.
Like the product
I'm new wit lasers - so there is a learning curve... Pro *** Can you Lightburn Software - not tied to cloud or gweike software. BTW connecting to the cloud is very difficult.(it's not my wifi server-cause the signal is strong enough for the next house to use)... Not once as the Gweike softare been successful.
***** I want the cloud print files, but if you can't connect to the cloud - NO Files for you!
The machine does produce and meet my expectations inspite of above..
It has its pros & cons but I don't regret buying it
The machine is nice don't get me wrong but there are pros and cons with it.
Cons: 1)first day I got it and set it up I was on chat with support team rebuilding the motherboard since my camera didn't work. (We got it fixed after 9hrs)
2) I wish once you calibrated your camera it stayed calibrated, I always have to redo mine every morning
3) go ahead and order a spare lens cause after a couple projects your lens is going to be burnt and you need a new one and shipping takes FOREVER!!!!!
4) their software is China based so it barely works in US so lightburn is going to be your best friend!
Pros: support team is very helpful and patient with you
2) once you get the hang of it you are not going to turn back and regret not ordering sooner
3) you can make ALOTTTTT of different things with it! I've had it for 2 months and still learning new things to make and it's amazing.
Overall I don't regret buying it
2) it takes a little getting use to but once you get the hang of it
Great service
We are really happy with the gweike cloud so far. It's faster and after a bit of a learning curve, fairly easy to use with lightburn. The tech support is also amazing. 24/7 i could go to a private WhatsApp group with the employees of gweike to help me with any tech questions i had. Its amazing how fast they reply, wich is neccessary when you depend on the machine for your small business.
I would recommend the gweike to everyone!